PATTI PAVILION, SWANSEA
Refurbishment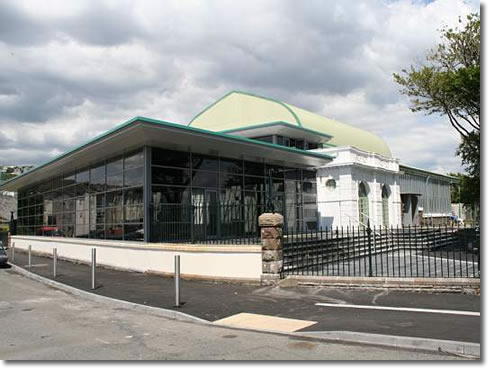 Patti Pavilion is an architectural oddity that has achieved Grade II listing due to its heritage in Swansea's history. The building was built by Adelina Patti, the most famous opera singer in the world in the 1870's. She originally bought "Craig–y–Nos" in the upper Swansea valley and set about expanding it by building a "winter garden conservatory and clock tower". The works cost £100,000 and such was the extent of her fame, it enabled her to pay for these works with just one tour of the USA for which she charged £1000 (approx £60,000 now) per performance. Adelina was a very charitable lady who donated much of her earnings to charities across the country. In 1918, at the age of 75, Adelina donated her winter garden to the people of Swansea. The building was dismantled and finally re-erected overlooking the bay in Victoria Park, Swansea in 1920. The Pavilion had been used widely for rock concerts, festivals, cultural events and a variety of other uses, but over the years has fallen into disrepair. In the 1990's it attracted the attention of a TV make-over programme, Challenge Anneka, to give it a new lease of life, but again the building fell into disrepair and in 2006 became further badly damaged by an arson attack. Fourgreen Developments were then appointed to undertake the construction works to re-develop this iconic building.
The construction work involved with re-developing the Pavilion had to be sympathetic with the local community, council, planners and CADW due to the nature of the building. We worked very closely with all parties to ensure the building's features were retained. A glazed extension was erected that enabled the existing facade to be renovated and viewed through the glazing. The extension and refurbishment works were carried out using sustainable resources and techniques to achieve a BREEAM pass rating. The existing sprung dance floor was overhauled and the building thermally and acoustically upgraded whilst still retaining the historic feel of the Pavilion. A dedicated 39 space car park was constructed for the benefit of the Pavilion.
It has been a privilege and a joy for Fourgreen Developments to be involved in the refurbishment of Patti Pavilion and to help it be revitalised and transformed to breath a new lease of life into this historic building, that forms such an integral part in Swansea's cultural history.
The project took some 9 months to complete at a cost of £1.5 million.