TIDENHAM MANOR
New Build Country House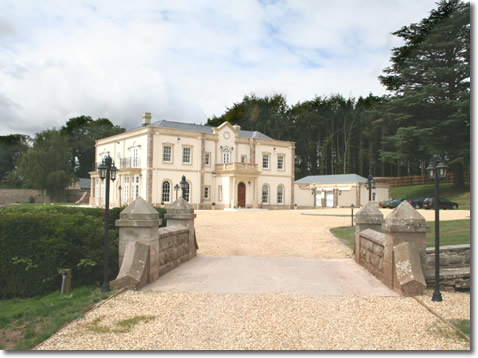 Tidenham Manor was a derelict country manor house beyond repair. The building was demolished and a bespoke Georgian style country house built in its place.
Working in harmony with the Client and the architect, the newly built manor house was orientated slightly from the existing manor house to achieve stunning views across the Severn Estuary.
The house covers 8,500 sq ft over two floors with an additional basement cellar area covering 1,130sq ft.
The accommodation includes a self-contained living area for domestic staff together with a 3 car garage.
The external facade is of a painted render finish. The ashlar stone surrounds to windows and doors, together with the ashlar parapets, cornices and string courses give a striking blend that enhances the aesthetic appearance of the manor house against the wooded backdrop of the Forest of Dean. Porticos constructed from ashlar stone encapsulates the Georgian features of the main elevations. The windows and doors are hardwood prefinished.
Internally, the floor finishes have been primarily laid with marble that compliments the marble staircase.
The wallpapered walls give a warm contrast to the marble floors and the walls and ceilings are complemented with the use of 400mm deep decorative coving, whilst chandeliers give prominence to the majority of the rooms.
The 700 sq ft hand made kitchen leads into an award winning conservatory complete with anti-sun, anti-clean glazing with window and rooflight openings that are automatically controlled through rainfall and temperature.
The 950sq ft entrance hall affords grandeur immediately you enter the house. Standing prominently at the end of the hall is the marble staircase with decorative balustrade that is elegantly lit by the 64 bulb chandelier that glistens from the sunshine emanating from the glazed cupola above the staircase.
The aged historic feel of the manor house is contrasted by the modern principles of the services installation with underfloor heating to the whole house, Bang & Olufsen sound system that is centrally operated to listen to different music in each room, as is the satellite and TV methodology, give the manor house the modern luxuries expected in a house of this magnitude.
The grounds have been landscaped within the original theme and the driveway furnished with Cotswold chippings.