EXCHANGE BUILDINGS, LLANELLI
Listed Building Conversion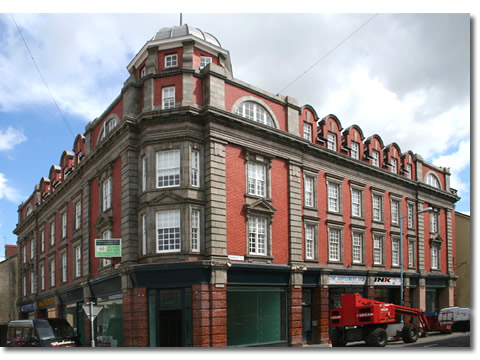 The building was originally constructed as shops to ground floor area and a further three floors were offices and an hotel. It was built in 1912 and designed by a local architect, William Griffiths. The offices had a separate staircase to all floors and the hotel also had its own staircase; both were accessed from Market Street.
In approximately 2005 our Client acquired the building and instructed the conversion of the top three floors to living space (30 residential units) and to renew all shop fronts, thereby upgrading the whole structure.
The building had suffered over the years from lack of maintenance. The roof coverings were virtually non-existent, window panes were broken or sash cords had become rotten, therefore leaving windows open. Both second and third floors then became infested with pigeons. Due to missing slates a number of floorboards and floor joists had to be renewed due to excessive water ingress as the timbers had become rotten.
The building was Grade 2 listed by CADW in approximately 1991 as it was deemed to be an important part of Llanelli's history.
New roof coverings were put in place utilising reclaimed Welsh slates and all lead valleys were renewed.
Approximately 50% of windows were repaired cannibalising existing windows to scarf timber, record and make usable. The remaining 50% were manufactured from new to match the existing box frame windows.
One of the staircases had become so dangerous through excessive water ingress that it had to be completely renewed. The Conservation Officer insisted that the new staircase was an exact replica of the existing flight.
All shop fronts were renewed to match original shape and mouldings to façade.