CASTLE BUILDINGS, SWANSEA
New Build - Roof Top Apartments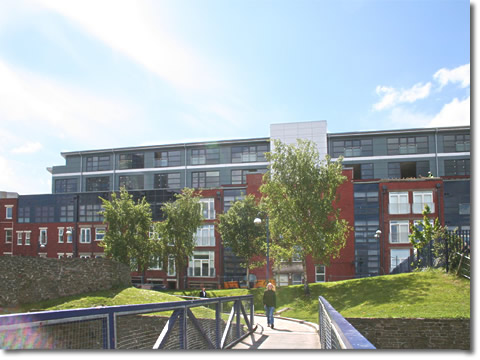 The construction of 30 rooftop apartments at fourth and fifth level on top of an existing building.
The fourth phase of the Castle Buildings redevelopment was a challenging project that required careful planning and co-ordination of logistics.
The site was bounded on all 4 sides, which meant delivery scheduling, craneage and hoisting was a critical element in achieving the successful completion of this project. This, together with maintaining harmony with the 60 existing residents and the shop owners at ground floor level, was a credit to the organisational skills of our site team.
The extension was constructed on top of the existing building, which necessitated installing a structural steel grid that transferred the loads through the existing structure to the foundations.
A timber frame was then erected on the steel structure, which helped with the tight programme constraints instilled by the Client.
The external façade has a contemporary feel creating parallel images of curtain walling and Trespa panelling. The glazing, together with the Juliet balconies at 5th floor level and timber deck terracing at 4th floor level, affords the occupants unrivalled views to the south and east across Swansea Bay to the Mumbles and to the north views up to the valleys to the Black Mountains.
All apartments are constructed fully compliant with the acoustic and air leakage requirements of the current building regulations.